I'm considering drilling a hole in the side of my neck so I can taste all the ooey, gooey, deliciousness I want to but it will then fall
out
the hole, therefore not making my rear end (any) bigger.
Good plan, no?
"Magic" Bars
makes 30 or so bars
1/2 cup butter (1 stick), melted
1 1/2 cups graham cracker crumbs (that's about 11-12 crushed graham crackers)
1 (14 ounce) can EAGLE BRAND® Sweetened Condensed Milk
2 cups semisweet chocolate morsels
1 1/3 cups flaked coconut
1 cup chopped nuts
Heat oven to 350 degrees F (325 degrees for glass dish). Coat 13x9-inch baking pan with non-stick cooking spray.
Combine graham cracker crumbs and butter. Press into bottom of prepared pan. Pour sweetened condensed milk evenly over crumb mixture. Layer evenly with chocolate chips, coconut and nuts. Press down firmly with a fork.
Bake 25 minutes or until lightly browned. Cool. Cut into bars or diamonds. Store covered at room temperature.
Recipe from Eagle Brand Sweetened Condensed Milk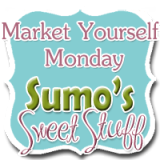 --------------------------------------
Many thanks to Sumo's Sweet Stuff for hosting
this
linking party. Newbie bloggers like me, with fragile blogging self-esteems, appreciate the hand-holding greatly!
Please go visit
Sumo
on her blog!